Milk, Dairy Products
Frozen Poultry
Canned Fruit, Vegetables and Fish
Dry Provisions
Beverages
Meat Products and Canned Meat
Poultry and Poultry Products
Lamb Meat and Lamb Products
Pork Meat and Pork Products
Frozen Food and Ice Cream
All kind of industrial products

We at Laxmi Marine have a wide range of Food Products, Marine Parts and other technical stores including bonded stores. Our Organization provides high class quality products and services at extremely competitive prices. We see ourselves as partner and service provider handling logistics, with a wide ge of products in stock and delivered at any ports for our esteemed customersí needs 24/7.

Ship Supply
We would like to make your voyage easier and more pleasant before and after sailing to and from all major and minor ports of India and assist you in whatever you need.

Supply of Ship Spares
We are able to offer a cost of effective supply to companies such as your self following in most cases complete overhaul, all deliveries will be with complete documents.


Anchor Chains
Our Product range also includes marine safety products & equipments, navigational lights Pyrotechnics, anchors & anchor chains.

Our Product range includes Deck stores, engine stores, cabin & bridge stores, oilfields products, navigational charts, publications, flags, IMO safety signs, flanges, valves, hardware, electrical, marine chemicals, and oil spill kits. We also specialize in Mooring ropes, P.P Ropes etc..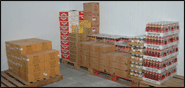 Our Product range also includes industrial and marine safety products, safety equipments, navigational lights Pyrotechnics, IMO Signs and fire Fighting Equipment, anchors and anchor chains.